Hi!
I have started working on a tool for calculating ROH, example: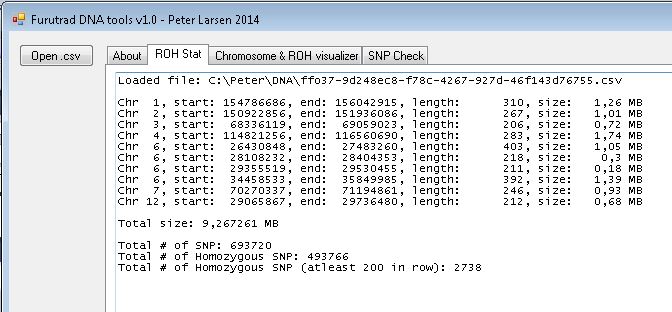 I thought it could be useful for people, just load your RAW autosomal export and it calculates it. Download windows application here (requires .NET framework 2.0):
It also features a chromosome visualizer, example: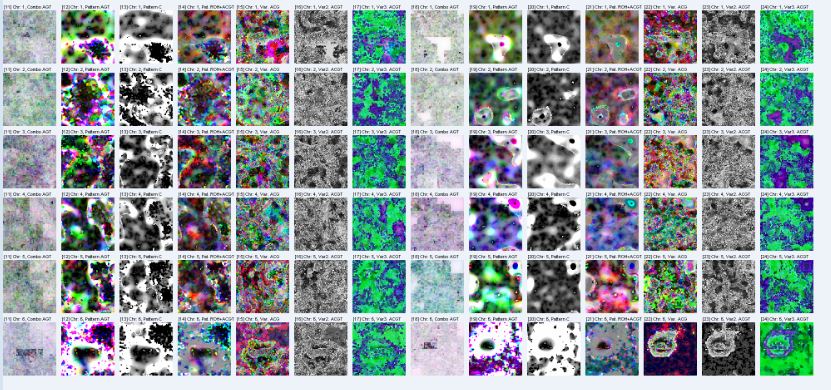 The visualzation is basically a 4-way approach:
Divide the chromosome into 4 strings of A, C, G and T's of equal length.
Fold the strings like a 2D square using Hilbert space-filling curve algorithm.
Apply various imageprocessing filters and pattern recognition algorithms on the squares.
Apply colors to the squares using different presets.
The patterns themselves does not tell you anything, they are meaningless. The purpose is to find a way of comparing and finding matching patterns between relatives, but the patterns is more like admixture finding than matching autosomal DNA's.
In the future I will add matching routines that will search for simularities between sample DNA's. It will search in all directions and not in the consecutive 1-dimensional way traditional matching uses. That way it will probably not be able to find out if a match is closely related, only finding overall simularities: admixtures.
It is an experimental work in progress draft, the patterns will change in the future. It is important to compare samples of the same version, because the patterns is heavy influenced by what SNP posistions there are in the sample file analyzed.
It is only for fun
, absolutely no real science behind this visualization.
Good luck, have fun!